Xanthostemon chrysanthus

X. chrysanthus
Conservation status
Taxonomy
Kingdom
(unranked)
(unranked)
(unranked)
Order
Family
Tribe
Genus
Species

X. chrysanthus

Naming and discovery
Discovered
Xanthostemon chrysanthus, commonly known as the Golden Penda, is a species of flowering tree or shrub in the Myrtaceae family. It is native to Queensland, Australia, where it is a popularly planted in gardens because of its showy blooms.[1]
It is a perennial small tree or shrub reaching about 30-40 ft (9-12 m) tall. The bright yellow flowers bloom from summer to early fall, occuring in clusters. The stamens of the flowers are a very principal feature of the plant, and are useful in helping distiguish the Golden Penda from other members of its genus. Its leaves are evergreen, glossy-green, lanceolate, reaching about 150 mm long.[2][3][4]
References
Edit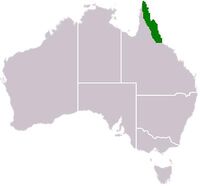 Ad blocker interference detected!
Wikia is a free-to-use site that makes money from advertising. We have a modified experience for viewers using ad blockers

Wikia is not accessible if you've made further modifications. Remove the custom ad blocker rule(s) and the page will load as expected.